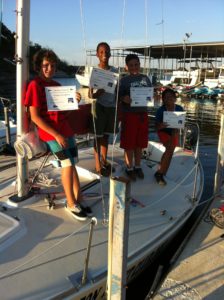 Learn to Sail
Like other youth sports and activities sailing is meant to be fun, empowering, and social. Sailing offers a unique medium to teach more than just practical skills. Sailing can offer calm moments of feeling connected to nature, along with excitement and adventure. Adversity and challenges along the way provide many opportunities for personal growth and team work.
​Sailing is easy to learn, but hard to master. Indeed people have spent their whole lives trying to master it, or branching out into related activities like kite boarding or windsurfing. Sailing is as much a lifestyle as it is a sport, one which you will be able to enjoy for your whole life or with your entire family. Your child might decide they want to be an Olympic sailor, or they may be content using their knowledge for cruising around Puget Sound. The skills learned in a small sailboat are transferable to all other forms of sail powered craft. Often the greatest reward in sailing are the intangible lessons it teaches you about yourself.
Where to Sail
The NT Daniel Regional Sailing & Boating Center (RSBC) operates through the LBYC Fund (Lake Belton Yacht Club), a 501(c)(3), out of Franks Marina on beautiful Lake Belton in Central Texas.  Franks Marina management have been supporting Lake Belton Yacht Club sailing programs since 1974.  We are located about an hour north of Austin and an hour south of Waco TX.
Community Sailing vs. Yacht Clubs
The Lake Belton Yacht Club formed the NT Daniel Regional Sailing & Boating Center as a community sailing program to administer Learn to Sail classes in Central Texas.  Here, we offer youth junior sailing, collegiate sailing programs, and adult classes that are open to the public.  LBYC and RSBC members may receive a discounted prices. Because most instructors are trained by US Sailing or the American Sailing Association (ASA), the activities, curriculum, and quality of instruction is similar between yacht clubs and community based programs throughout the nation.
The LBYC offers racing and competition for both adults and youth with a growing number of high school sailing teams competing each school year locally and throughout Texas. You or your child can have a great experience at either a community based or our yacht club program. The key to any outstanding program is that it's safe, fun, and that the students are learning.
Cost and Scholarships
Learning to Sail is not too expensive, or at least no more so than any other day camp, recreational class, or club sport activity.  The RSBC keeps the Learn to Sail or Advanced Sailing classes at 2 days from 8-5:30.  Youth groups 12-18 years old cost is $150, Youth and Collegiate young adults cost is $200, with adult classes are $250-300 with discounts for Scout Leaders, Active duty Military and Veterans, First Responders, and LBYC-RSBC adult members. When you break that down, our youth programs cost between $9.50-$15.50 per hour of class time. It's hard to make the argument that youth sailing is elitist when you compare it to other activities.
The LBYC Fund grants scholarships for young sailors to attend class. The criteria is designed to open up the sport of sailing to all youth.  We believe that financial circumstance is no reason to miss out.  Simply complete and provide an application for scholarship to the Sailing Director.